Fiverr is an online marketplace where freelancers sell their skills to Fiverr clients for a reasonable price. These services ranging from animated video making to graphic designing, website making to SEO, and lot more services. >> Visit Fiverr Now.
Here I am sharing with you the 30 best freelancing services on Fiverr and you will find the best freelancers and gigs if you go through the below links of each individual service:
➤➤ Whiteboard & Animated video making. 
➤➤ Architecture & Interior work.
➤➤ Programming & Technical game developing.
➤➤ Website Building & CMS services.
➤➤ Mobile Application & Web developing.
➤➤ WordPress-related services.
➤➤ Website development by Programming.
➤➤ SEM (search engine marketing).
➤➤ SMM (social media marketing).
➤➤ Proofreading & Editing Services.
➤➤ 3D Models & Product Designing.
➤➤ Data Analysis & making reports.
➤➤ Articles & Blog Posts writing.
➤➤ Illustration (Graphics & Design).
➤➤ E-Commerce Marketing service.
➤➤ Translation from other languages.
You don't find your desired service above? >> CLICK HERE <<
Are all of the freelancers on Fiverr trustworthy and talented enough to execute jobs successfully?
In a single word No, all freelancers are not trustworthy and talented enough. If you want the best freelancers on Fiverr check review and rating first. Also, check how much works they have done previously and the number of orders in the queue. If you want an experienced freelancer you need to pay a little more money for the gig. 
Also, you can try with new freelancers who charge a little less. But whenever you choose a new guy, give a small work for testing purposes whether the person has enough knowledge to execute the work or not. If you found the freelancer is trustworthy and talented then give the complete work.
What is the Fiverr procedure of working?
Customers are connected to skilled freelancers who specialize in the services they are offering through this freelancing platform. Buyers will search for a certain service they desire and are then given a list of freelancers that provide that particular service. On the Fiverr website, such services are known as "gigs."
The buyer has the option of reading each seller's testimonies and can filter their results by price, experience, review comments, and rating. Once the customer has chosen a freelancer, they can contact them directly with any questions through the Fiverr dashboard.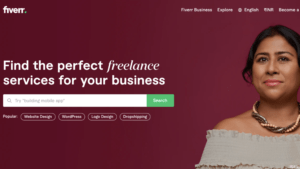 What does it cost to use Fiverr?
Both freelancers and clients can join Fiverr for free. 
>> CLICK HERE << to register on Fiverr for free. 
Buyers pay whatever the amount vendor sets for each gig. Many freelancers' fees begin at $5, although this varies for every seller.
Depending on the difficulty and amount of the task, a customer pays anything from $5 to several thousand dollars.
Some tips for finding the best legitimate sellers:
It is advised that you seek at least a couple of 4 star or higher reviews from genuine consumers while looking for the best authentic vendors on Fiverr. It's also a good idea to check the seller's bio attentively to learn more about their professional skills and educational history.
This is the most effective technique of determining whether the vendor is capable of doing the work to the professional standard that you want.
Pros:
As a buyer, the User interface was simple to use. Easy to figure out what you want and how to find a seller.

There were several filters and search options available to locate the right freelancer.

Customers can choose from a large variety of digital services.

For the clients who need tasks completed quickly, the usual turnaround time is excellent.

From the thousands of freelancers, it's simple to differentiate an unskilled or poor vendor from an experienced and skilled one.

Fiverr is cheap in comparison to other freelancing websites.
Cons:
Customer service is not always dependable, and requests may be ignored or not responded to sometimes.

There is no standard price for the same kinds of services.
Fake Fiverr Reviews to Avoid:
However, there are a number of other online marketplaces where sellers may pay for good reviews on their Fiverr profile. Because false Fiverr reviews also increase trust.
Many vendors may also share good feedback with one another in order to enhance the probability that their services will be purchased.
Looking for reviews posted by other sellers is one of the best ways to identify false reviews on Fiverr. 
Can you rely on Fiverr? Conclusion:
In short, Fiverr is a legitimate and reliable freelancing network for both consumers and freelancers. This platform acts as a mediator between the buyer and the service provider, ensuring that both parties' payments and work are secured.